As COVID-19 became a global pandemic and the global financial markets entered a period of uncertainty, the mortgage market experienced a wave of volatility. During this time, many institutions took a hard look at the MSR asset, including the valuation of existing portfolios and capitalization of new MSR.  Specifically, some institutions on the LOCOM accounting system chose to haircut their capitalization rates, reducing their risk of impairment by decreasing the MSR cost basis.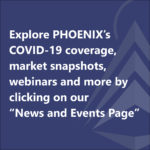 Now that the initial panic has subsided and the MSR market has resumed trading, many institutions find themselves with a significantly larger MSR asset than they held in January 2020. For institutions who would consider maintaining this increased size, hedging the portfolio may become an option, and changing to Fair Value accounting would be one of the first steps in that transition.
If you would like to learn more about how PHOENIX can assist you with your MSR valuation and strategy options, including LOCOM and Fair Value accounting, please contact your PHOENIX representative, or fill out the contact submission form below.